Strymon Volante Pedal
Delays For Days.
Three Magnetic Delay Types, Reverb, Looper, and More.
Delivering truly exceptional sound quality and intuitive playability, Volante is designed to radically enhance the sonic expressiveness of your pedalboard. Featuring magnetic drum echo, tape echo, and reel-to-reel studio echo, Volante is a stereo multi-head delay that also offers a looper and vintage spring reverb algorithm, with powerful sound-sculpting controls for limitless sonic possibilities.
Drum Delay With Unprecedented Control.
Magnetic drum echoes are famous for their warmth and for their harmonically rich and saturated sounds. This is due in large part to the many tube stages present in the most sought-after units. There were tubes in the input buffer, the signal mixer, the record and playback amplifiers, the tone shaping circuit, and the output mixing circuit.
Every sonic aspect of our favorite drum echoes has been meticulously reproduced within Volante. Dial in any possible sound from the full range of the best vintage drum echo units in conditions ranging from fresh-from-factory to road-worn classic.
Classic Tape Echo Experience.
Volante gives you superbly crafted multi-head tape echoes, including the smooth tape saturation and the characteristic imperfections and nonlinearities inherent to the sound of those vintage machines.
Mechanical alignment, head wear, and tape crinkles, splices, and contaminants are all accounted for in Volante, giving you all the richness and complexity of a classic tape echo, with modern control and stability. Volante also allows you to recreate the irregular head spacing of some of the classic tape echo machine
True Studio Tape Sound.
The professional reel-to-reel machines of the 50s and 60s were high-fidelity units built to accurately reproduce full-range audio signals. In the hands of creative engineers, these machines also doubled as some of the earliest studio effects, producing some of the fattest sounds imaginable.
Of Volante's three magnetic echo types, the Studio Echo provides the cleanest sound, able to sustain the highest number of repeats with minimal degradation. Volante gives you a pristine studio delay with the full-bodied warmth and fidelity of reel-to-reel tape.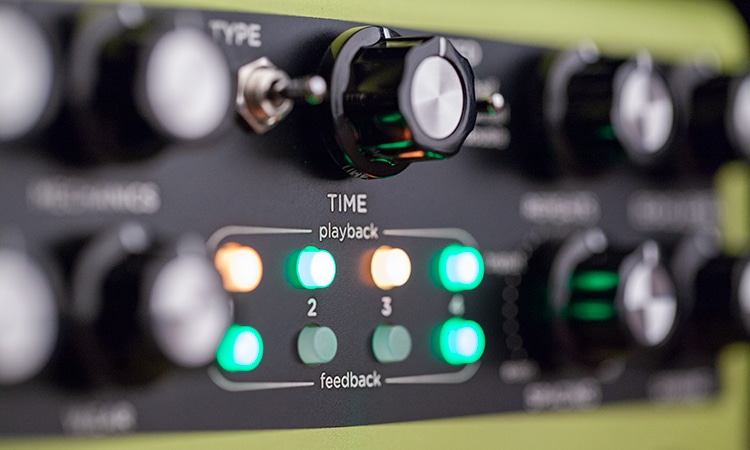 Set Playback Level and Feedback for Each Head.
Each head's playback level can be set for full volume, half volume, or off. Independent of playback level, you can switch each head in or out of the feedback circuit. You can even switch heads into the feedback circuit that are not activated for playback. All of this control allows the creation of interesting and complex rhythmic patterns as well as unique atmospheric delay textures.
Completely Analog Dry Path.
In a typical digital effect the dry signal gets converted to digital, causing conversion noise and latency. Signals are often attenuated before combining digital dry and wet, with makeup gain amplifying the conversion noise. To avoid this, we've equipped Volante with a completely analog dry path, featuring all-analog, ultra low noise, discrete, class-A stereo JFET preamps. Volante is truly a studio-quality effect.
Core of your MIDI Rig.
With full MIDI control of every parameter plus 300 preset locations, Volante is designed to be the center of sonic expressiveness for your MIDI pedalboard. Let Volante provide the inspiration, and the possibilities are as unlimited as your imagination. Volante transmits and receives MIDI over 5-pin DIN, USB, and even the Expression jack (via 1/4″ to MIDI cable)—perfect for your pedalboard or in your studio.
Insanely Powerful DSP.
Strymon have outfitted Volante with the incredibly powerful Analog Devices SHARC ADSP-21375 processor, which provides a 266 MHz core instruction rate, and an incredible 1.596 Gigaflops of peak performance. Thanks to this high-powered technology platform within Volante, we had the freedom to craft our processor-intense echo algorithms without compromise.